Danielle, Clinical Lead Speech and Language Therapist Forensic CAMHS and CAMHS Allied Health Professional (AHP) Lead shares her story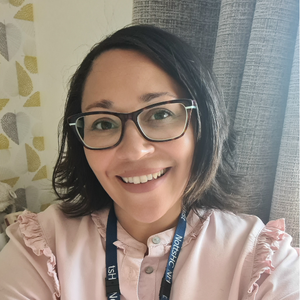 Why Black history is important to me:
Black history is important as it raises awareness and highlights the achievements of so many great people at a local and international level, celebrating past and present events. It is a time to remember the struggles, inequalities and negative perceptions and help turn those around but also celebrate the wins and embrace the positive changes that are happening.
The first black person to influence me outside of my family was my first ever black teacher from my secondary school in Nottingham. She introduced Black literature to our curriculum and brought topics alive.
I believe it is so important to see someone that looks like you in all elements of our lives at and love that in Notts HC NHS Trust there are Black people representing at senior levels, demonstrating that although there is still lots to be done, that people of colour can achieve and are supported to achieve in their areas of work.
Who I am and proud to be…
I am mixed race (dual heritage) and I am proud to be black. I embrace both sides of my cultural heritage although as a child that wasn't always very easy as at times I didn't feel like I had a neat place to fit as I was perceived by some as too brown (so not white) and too white (and not black) to be accepted by peers. This did change according to which area we were living at the time as we did move house a lot. At those times it is so important to have strong network of support from family and friends as that helps build your resilience and helps you stand proud to be you. My family is inspirational to me and my mum has been my biggest cheerleader!
Professionally I am a Clinical Lead Speech and Language Therapist and I'm due to start a secondment as a CAMHS Allied Health Professional Lead. I love my clinical work, working directly with children and their families, hopefully providing some light / guidance / navigation to children and families that have struggled with their communication skills and struggled to access services. I am looking forward to taking on a management position as the AHP lead, to reach a wider audience and help shape services.
Aspirations…
To break down barriers and inspire the next generation to believe in themselves, reach for the stars and shine brightly as the unique individuals that they are.