Board of Directors Meeting - 26 January 2023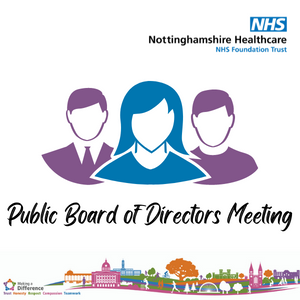 The next Nottinghamshire Healthcare NHS Foundation Trust Board of Directors meeting will take place on Thursday 26 January 2023, starting at 9.30am in Conference Rooms 1&2, Duncan Macmillan House, Porchester Road, Mapperley, Nottingham NG3 6AA.
Members of the public and staff members are welcome to attend and observe the meeting by booking a place via email BODCommitteePapers@nottshc.nhs.uk
Please arrive by 9.15am in order to be seated before the meeting starts.
The meeting is held in public rather than being a 'public meeting' therefore no questions will be taken live on the day, however they can be submitted in advance by 12 noon on Tuesday 24 January 2023 to BODCommitteePapers@nottshc.nhs.uk and they will be addressed during the meeting.
The agenda and papers will be available on the Trust website by Friday 20 January 2023 at https://www.nottinghamshirehealthcare.nhs.uk/board-papers