Board of Directors Meeting - 4 October 2022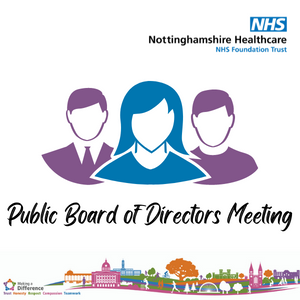 The next Nottinghamshire Healthcare NHS Foundation Trust public Board of Directors meeting will be held at 9:30am – 12:30pm on Tuesday 4 October 2022. This meeting will be held in person at Terence Suite, Doubletree by Hilton – Gateway Hotel, Nuthall Road, Nottingham NG8 6AZ – please book a place by emailing BODCommitteePapers@nottshc.nhs.uk as numbers will be limited.
If you have any questions for the Board of Directors to address during the meeting please submit to BODCommitteePapers@nottshc.nhs.uk by 12 noon on Friday 30 September.