Dr Phil's Health Revolution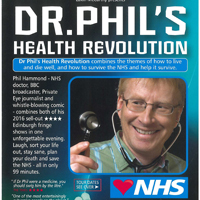 Phil Hammond, NHS doctor, BBC broadcaster, Private Eye journalist and whistle blowing comic is appearing at Nottingham's Lakeside Arts on 10 February. Laugh, sort your life out, stay sane, plan your death and save the NHS - all in only 99 minutes.
More details on www.lakesidearts.or.uk or telephone 0115 846 7777.