Empowering patients in Nottinghamshire to get involved and make a difference to their local health services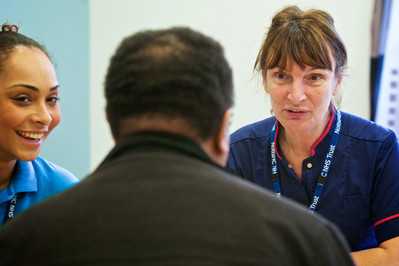 Patients, service users, carers and members of the public are invited to a networking event to inform and inspire local people to become more involved with their health services.
Local people are invited to attend this FREE event on Thursday 14 February 2019 from 9.15am to 3.30pm at Trent Vineyard Conference Centre, Unit 1, Easter Park Lenton Lane, Nottingham NG7 2PX.
East Midlands Academic Health Science Network (EMAHSN) and its Patient Public Involvement Senate are hosting the networking event which has been organised in collaboration with local NHS and healthcare partners.
The event will include speakers from within healthcare and interactive workshops. There will also be information stalls run by healthcare professionals and patient representatives focusing on key areas where people can have a say to improve local health services.
The aim of the event is to inspire and motivate people to get involved in shaping healthcare services and raise awareness of opportunities to most effectively make a difference within Nottinghamshire.
Mike Hannay, Managing Director of EMAHSN, said: "This is a unique event that we hope will inform and inspire local people in Nottinghamshire.
"The health and care system is complicated and can be difficult to navigate and understand. We want to equip people with the knowledge they need to understand the structure and landscape of the NHS so they can have impact and influence in the future of services in their area.
Added Mike: "I would like to thank all of our Nottinghamshire health and voluntary sector partners for supporting this event which I am sure will be a valuable opportunity for networking and engaging with local people."
Amanda Roberts, East Midlands Patient and Public Involvement (PPI) Senate member, said: "This is a unique and inspirational networking opportunity for patients and carers who are, or want to be, involved in health services across Nottinghamshire. An enjoyable opportunity to learn and share from each other, to be connected and invigorated. I am grateful to the EMAHSN for making it happen."
The EMAHSN has already held patient, carer and public networking events in Northamptonshire, Lincolnshire, Leicester, Leicestershire and Rutland and a further event is also planned for Derbyshire in 2019.
The event is a collaboration between the EMAHSN and the East Midlands PPI Senate in partnership with local healthcare organisations. Travel expenses for patients, carers and service users attending the event can be reimbursed. To register your interest in attending please visit www.bit.ly/InvolveNotts
For those unable to attend or who want to follow the event on the day, we will be using the hashtag #InvolveNotts.