Trust Physio supports June to get back on her feet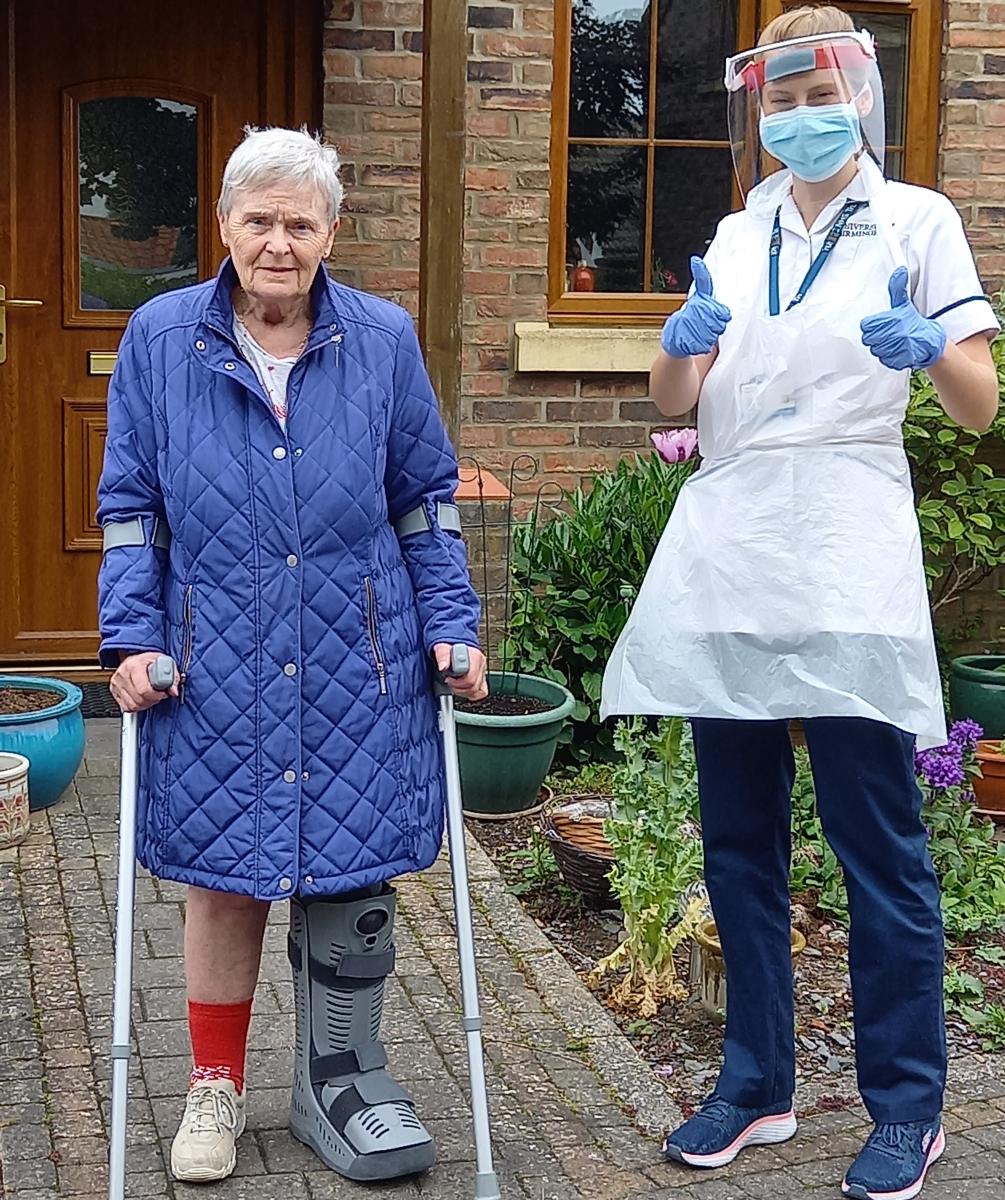 For World Physical Therapy Day, we talked to June, one of Nottinghamshire Healthcare's patients, about how physiotherapy has helped her get back on her feet and gain more independence again.
The awareness day - on 8 September each year – aims to unite physios all over the world and provides a focus for recognising the work they are doing for patients and the community
The Coronavirus pandemic has made life challenging for many, and for 82-year-old June, from Bingham, life was even harder as she had broken her ankle. June slipped and fell down the final few steps on her stairs. It was very painful and lead to her having a stay in hospital and an operation to set the foot back into place.
When she left hospital, she received support from the Trust's physiotherapists and community support workers to help her recover.
June said:
"All the physios have been lovely, very kind and encouraging. Due to the COVID-19 virus I haven't been able to see anyone. Only the physios. When I first broke my ankle I felt very low and thought I might never recover.
"I can now walk with crutches outside. I go out three times a day to do walking exercises and I do foot exercises every day.
The community physio, Chloe, visits weekly to provide education, reassurance and exercises.
Chloe said: "June has done really well with her recovery. We provided her with a perching stool to improve her independence in the kitchen, and walking aids. The community support workers have visited on alternate days to build her confidence on the stairs. She is now able to complete the stairs and her mobility is progressing.
"June is really determined and has worked really hard on the exercises she has been given. It's great to see how far she has come and see her getting her confidence back."
June commented:
"Chloe was brilliant, really lovely. I enjoyed seeing the therapists. When I first started seeing Chloe I could do 2 steps, now I can do 40-50. I have also got more independence back so I am able to do more jobs and cook now. I've been very lucky to have so much treatment and support
"If you do as your told and do your exercises you can't go far wrong. She has been a great support, anytime I have needed her. Can't ask for anything else really."
"The therapists have been wearing masks and visors and gloves which have made me feel protected.
"I think people took the NHS for granted before but I hope people appreciate it now."