Staff recommend Trust as a place to work and to receive treatment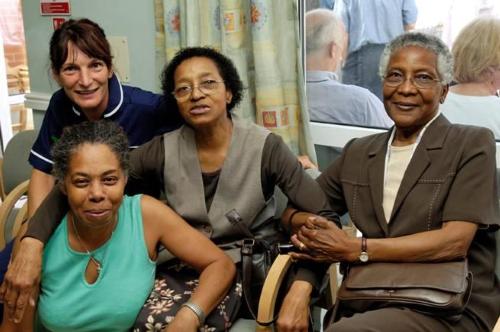 Staff at Nottinghamshire Healthcare rate their employer and would recommend it to friends and family as a place to work and receive treatment. These findings are published today in the results of the National NHS Staff Survey 2020.
More staff than ever before opted to share their thoughts in the survey this year about working in the organisation, resulting in a response rate of 55.6%, which is higher than the average response rate across comparator Trusts that took part in the survey. This is the best response rate over the past five years for Nottinghamshire Healthcare, showing a real improvement in staff feeling engaged and listened to.
The survey asked 78 questions about staff's experience as an employee, grouped into ten themes including equality and diversity, health and wellbeing, safety, quality of care, staff engagement, management and team working.
Nottinghamshire Healthcare has the most improved results in 2020 compared to the best, average and worst rated comparator Trusts (whose surveys were administered by Picker) in eight of the ten themes. It has also had the best result in six of the areas in relation to the past five years.
This year, a number of new questions were added specifically in relation to people's experience of working in the COVID pandemic including safety at work, redeployment, remote working and working in COVID wards and areas.
Of the questions which could be compared to last year, 44 received a significantly better response, 30 showed no significant change and one was worse. This related to staff experiencing violence and aggression from patients, their relatives and carers and members of the public.
The Trust scored above average (of comparator Trusts) on six questions, including adequate adjustments, care of patients and if staff would recommend it to others as a place to receive treatment.
Dr John Brewin, Chief Executive of the Trust said: "We are really pleased with the headline results of this year's survey and that our staff would recommend us as a place to work, and a place to receive care and treatment.
"This year's results show a huge improvement in nearly all areas and even more importantly, that so many of our staff feel engaged and listened to. I am pleased that staff feel motivated, supported and valued and that they have the right tools and support to do their jobs and deliver the best possible services and highest quality of care and am particularly encouraged to see our overall improvement in staff engagement scores.
"Whilst these results are encouraging, we are not complacent and now need to spend time with our staff looking at the detail of what they have told us so that we can target our improvements in the coming year and further ahead. Staff safety is a priority and we are continuing to work to address the issue of violence and aggression towards our employees."
Andrea Dickens, chair of the organisation's staff partnership forum added: "It is really pleasing to see that so many of our colleagues took the opportunity to give their views. I am particularly proud that so many said they would recommend Nottinghamshire Healthcare as a place to work, as well as a place to receive care and treatment. Staff side representatives across the organisation look forward to continuing to work in partnership with colleagues and managers to make even more improvements."